On August 11th and 12th in Gete returns the "Wine Festival": the event that exalts Tintore and traditions! The village of Gete in Tramonti welcomes visitors to places with old-fashioned charm, such as the Rock Chapel, amidst the ancient sounds of tammorre, traditional flavours made up of 0-kilometer dishes and, of course, rivers of Costa D'Amalfi DOC Wine.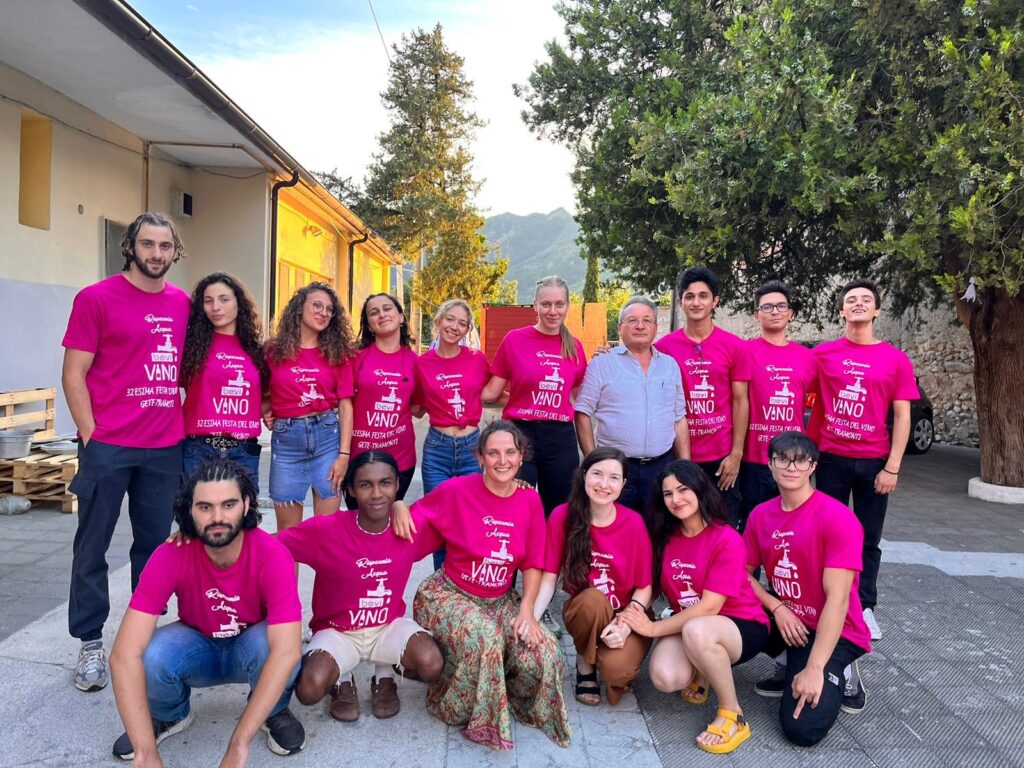 Spirit of the festival
After a three years hiatus due to the Covid-19 pandemic, this traditional festival has triumphantly returned to Gete in 2023. Historically, the first Wine Festival took place in 1988 and they decided to do it in this place where the largest production of Tintore grapes is concentrated.
This year, the event was curated by the Wine Tourist Movement in collaboration with the Citta del vino (wine cities) association thanks to the effort of the Gete association and it was dedicated to the world of oenology.
During the event, a rich menu consisting of traditional Mediterranean and Tramontana dishes, accompanied by numerous DOC wines were served, also sweets from Master Pastry Chef Sal De Riso and Pasticceria del Borgo complimented the already wonderful cuisine.
The wine's protagonist of the festival was Tintore, a regional grape variety found only in these lands. The other local wine was Piedroso, a red Italian grape that is planted primarily in the Campania region. Basically, the wine is produced by three local winemakers: the first kind of wine is "Cardamone IGT", a dark red, strong and intense wine derived from "Tintore" and "Per è palumm" grapes. Regarding the second one, "Costa d'Amalfi DOC" wine, is a rose light and scented beverage derived from "Sciascinoso" and "Piedirosso" grapes. Last but not least, "Tramonti rosso Costa d'Amalfi DOC" is a strong and vigorous red wine derived from "Tintore", "Piedirosso" and "Aglianico" grapes.
The food and the wine, excellent on their own merit, were accompanied by the canvases of the Napolitan painter Salvatore Rodriguez, delighting guests at the Rupetrian Chapel with photos exhibition depicting rural life, its struggles and beauty. In addition, music fans enjoyed live performances by Maryana Somma and Rosario Avella, as well as various local performances, such as Nello Cuccurullo's "live show" and folk dances by "A Paraza ro Tramuntan". They were accompanied by Tammorre, a special tambour used for traditional music in the Amalfi Coast. The final evening of the festival was a continuous musical experience with Caribbean and Brazilian dances by Noy Manero directly from "Italian's got talent", to the music of I Discede, and the musical sophistication of Filly Lupo.
Our impressions as volunteers
As volunteers, we took part in the preparation of the festival with local people. Firstly, we gathered early in the morning to prepare the meal in a pleasant atmosphere with local music and conversation. Later on, we had lunch together and learned about the festival and had been informed about our responsibilities. The festival begins at 8PM and we were divided in teams all around Gete in order to help during the festival. Our activities were : picking-up the trash in order to let the places clean, selling wine and sweet to the guest behind traditional stands, etc. At the same time, we enjoyed to try the traditional food and wine. We are thankful to Professore Taiani, the President of the Gete association, who was very kind and who guided us during the festival. At the end, we had some free times for ourselves to feel the atmosphere and the music until the end of the night! One of the volunteers, Eren from Turkiye shared with us his feelings about this experience: "I am very pleased that we were able to get along with people speaking different languages and fulfill our responsibilities in a coordinated way. I am very happy to have taken part in this festival, which I think had great impact on my cultural, personal and social development. It was an unforgettable experience for me."