Make it green 2 is now over and for me as a camp leader it has been a very valuable experience. The camp was organized for the second time by ACARBIO (Associazione Costiera Amalfitana Riserva Biosfera), the local municipality of Tramonti and YAP (Youth action for peace Italy).
To participate in a work camp is an opportunity to get to know people from different parts of the globe with different cultures and point of views. It is a chance to see another part of the world in a different way than as a tourist. The aim with a work camp is usually to protect or develop the natural, social or economic resources in an area with help of international and local volunteers.
During "Make it green 2" there were 12 volunteering participants from Spain, Russia, Germany, South Korea, Japan, Sweden, Belgium, Serbia and Greece together with Italian local volunteers.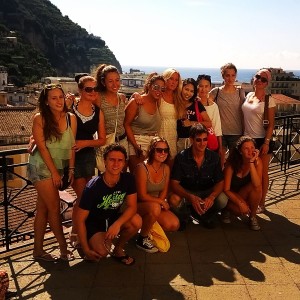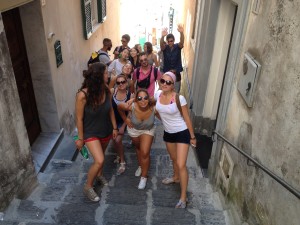 The ambition with "Make it green 2" work camp in particular was to promote a more sustainable way of handling the litter problem in the community at the same time as raising awareness to the residents to stop throwing garbage in the nature. During this camp volunteers where working together with local volunteers to clean areas of Tramonti, especially along the roads. This cleaning was not only performed to make the area directly cleaner, it was also done in order to send a message to the local inhabitants that we should care more about our environment.
It was surprising how much garbage that we found along the roads. Each day we collected around 18 big garbage bags with mixed waste and the same amount of garbage bags for plastic and aluminium, to this add the fact that we were only cleaning around 4 hours per day, it is way too much waste.
This work camp had as an objective to promote public awareness towards a more sustainable life style and a more ecological way of living. There is too much materials that are just dumped in the nature that in other cases could have been recycled and to recycle materials instead of creating new saves a lot of energy. So instead of looking at used products as only garbage we should try to figure out how we could use it as a resource.
One part of the work Camp was also devoted to recycling or a more correct word, upcycling, which means that something new is built out of old products or materials. Here we worked together with Girasole, which is a centre for disabled people, the centre is situated here in Tramonti. From them we learned how to build for example candlesticks, lamps, vases and other decorations out of old plastic bottles, plastic bags, glass bottles or other things that in other cases would have been considered as garbage. These decorations were used during a party together with Girasole. A party were we ate, talked and singed together at the same time as we enjoyed the feeling that we only used recycled materials to decorate with.
During our work along the streets there were many cars stopping to ask us what we were doing and why, and this was very important for us. This was exactly what we wanted people to ask, why are people from different countries coming to our region to clean our streets. There are as I see it two answers, first, we have to take care of our earth all together, we should work together and not against each other if we want to have a bright future. Second, the effort of the volunteers do hopefully send a message to the locals that this high rate of littering is not normal and we have to stop it. If it is necessary that volunteers from far away, even from the other side of the globe, come and clean the streets of Tramonti it must be way to much littering.
There were also a lot of people stopping that already understood what we were doing and why and they were very thankful. We could really see that the residents appreciated what we were doing and the friendliness and generosity of the people of Tramonti was always present during our work days.
I think that this camp has been appreciated from the volunteers as well as from the community. For next year's camp I think that it would be even better if local volunteers were even more involved, because it would have given a deeper understanding from the residents and therefor a greater outcome.
This was my first experience as a camp leader and I think that I was really lucky to get a camp with this volunteers. They made it so easy for me, they worked without complaining at all and I could really see that they wanted to help both each other and Tramonti. I am amazed that people that are so different and from so many different places can come together and work as a team without any problems. All the volunteers during this camp had very different personalities and characters but they were all so positive, helpful, open minded and just great. I have really learned to try to be more open to people and to try to think that everyone is good because I have seen that it is possible through this people. So thank you so much and I hope we meet again in one of your countries or maybe during a reunion here in Tramonti! Also a big thanks to all the local people of Tramonti, for your kind words, invitations to dinners and lunches, horseback riding, traditional dancing and music, pizza making and festivities I will never stop to be surprised of the generosity of the people of Tramonti, it has been a great camp thanks to all of you!