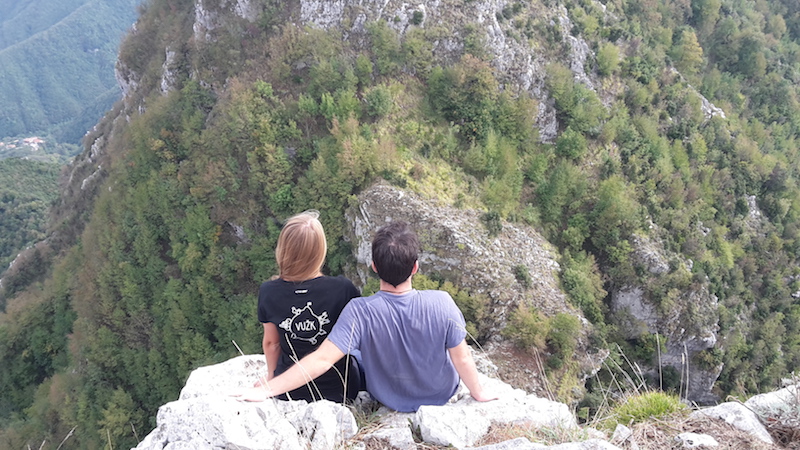 After two months spent in Amalfi coast and in ACARBIO I can say without hesitation that it is very open and innovative organization. Furthermore, the people who are working in ACARBIO are really nice, smart, interesting and experienced. That's why it is a pleasure to work with them. Since the very beginning, organization accepted me and made me feel like the part of a family. Also, the headquarters of ACARBIO are surrounded by the beautiful green mountains and the fact that now we have 4 little puppies makes this internship a dream job.
Moreover, ACARBIO gives great opportunities to its volunteers. Here I learned the traditional way of making pizza in a stone oven and after a month spent at Minori beach I improved my swimming skills. And now I know how hard the members of the organization work to revive the King Umberto tomato. They are really passionate about it. Also, it's admiring how much they care about environment, how willingly they are working with the young people and trying to change the local community. It's inspiring.
The free time here is amazing too. This weekend was not an exception because we had a hike to the Monte Finestra. With the other 19 people we walked 11 kilometres and reached the height of 1138 meters. It took more than 3 hours to go there because we had a lot of short breaks to capture the amazing view on camera. Also, we checked the strength of our legs by climbing up, but it's not so hard if you have a good companion to talk with. Then you don't even notice how the time passes by.
The hike was organised by the student association ASNU. The president and vice president took care of the group: Marcello was leading it and showing the path and Luca was always the last one. There were people who went on a hike for the first time, so he made sure that nobody was left behind. On the top of the mountain we spend 2 hours to rest and to eat. Not every day you have the opportunity to eat lunch while looking at the mountain ranges, the peaceful villages of Tramonti and the sea from above.
After the lunch, Luca told us about the history of the mountain and its rocks. Then we turned to go back. It took 2 hours because you had to pay attention not to fall over or slide down the rocks. We finished walking just before the rain started and considering the fact that it was raining during the night and the next day, we were really lucky to have such a good weather for the trip. To sum up, this hike was perfect for me. Not too hard but not too easy also, because after the trip you felt like you did a good exercise.
I'm so glad that I have chosen this place to undertake my internship.
(Ina Liaudanskaité)