One bright and sunny day a small international group of dwarves, who lived between the big mountains and called themselves Acarbio team got an unexpected invitation to a birthday party.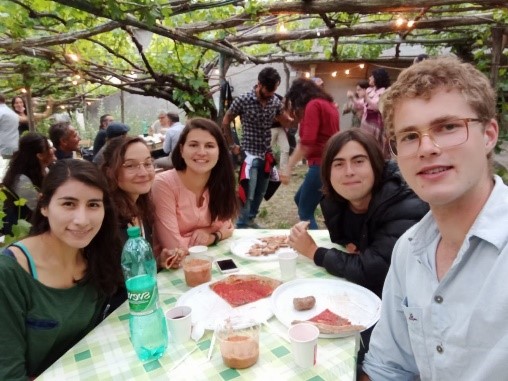 They were excited, because it was a special event and they wanted to bring a nice birthday present, but they did not have any idea what they could do. The dwarves had long brainstorming, but nobody had any good proposal, therefore the bravest dwarf decided to go the dangerous forest and collect a special fruit. After an exhaustive adventure, the dwarf brought home the special fruit and put on the table.
"Let's make the best birthday cake, which a dwarf had ever tasted!"
"I can open the magic recipe book" answered one of the other dwarfs.
Actually, the second dwarf was me, and so if came that we baked a cherry cake as a birthday present from a local cherries collected by our brave dwarf Kilian.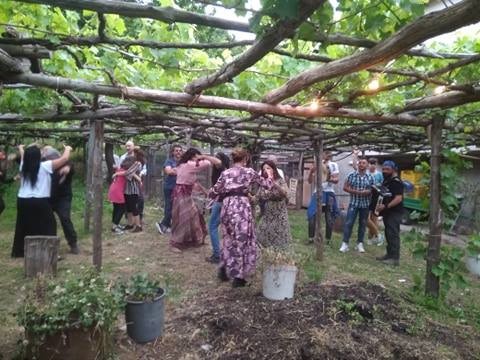 The beginning of the party was near. At 7 PM almost everyone was prepared…Ops, the girls not. Me included. One more minute in the bathroom, and goooo!
The place was a surprise. Happy people were eating pizza and drinking wine under the grapevine, wonderful decoration with small bulbs and napolitan music.
"I would like to dance" said Winny, and abracadabra, the magic happened. We're dancing napolitana dance, which put everybody in a good mood. The responsible for the happiness was the A " paranza do tramuntan" , the most famous music band in the whole Tramonti, Campania Region and maybe all Southern Italy. They use a special instrument, called "castagnette". Marie liked it so much, therefore one participant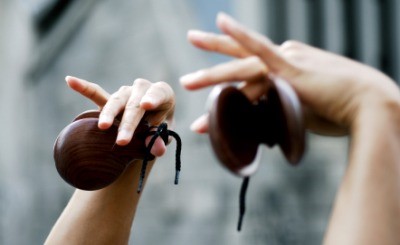 from the birthday gave them to her as a gift.
No birthday without a cake! The music stopped only for this moment, when we're celebrating Raffaele with champagne and cake. Our message was mediated in Italian by Miguel.
The party was continuing until midnight and it ended with guitar and singing.
I think, it was an unforgettable event for all of us and a good opportunity to experience the Napolitan tradition. Thank you, Raffaele for the invitation! Tanti Auguri!
*Máté Anita, ESC volunteer