Take a look at the following photo, you see a sign which is made out of wood and carve with no paint at all. It is a sign which can never harm our forest as it is made from natural materials.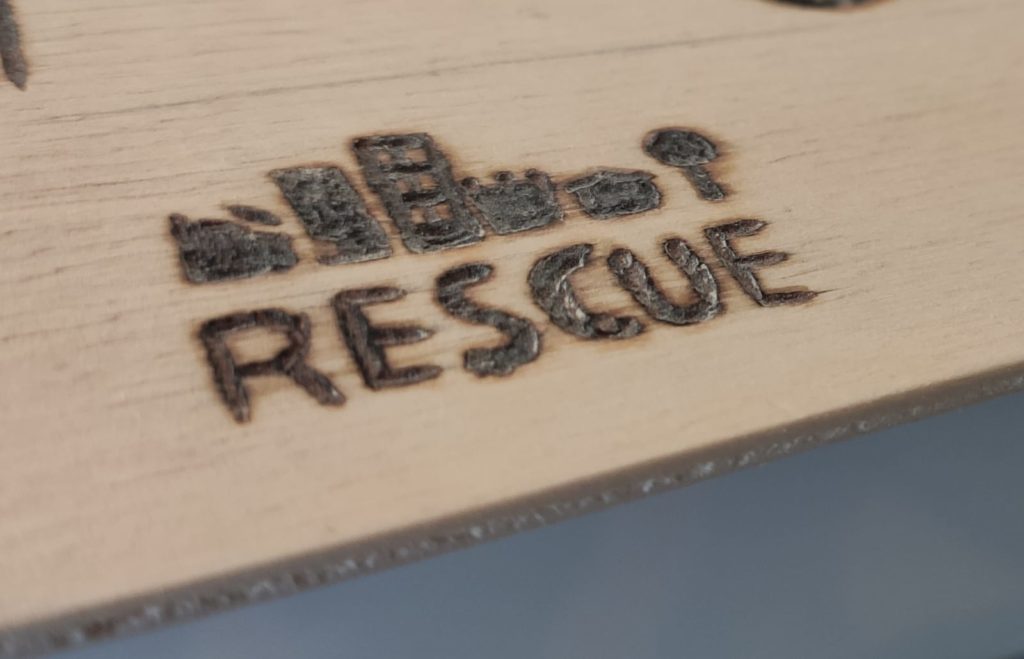 How do we use pyrography in our projects?
It is one of many signs which our organization made to place along the path which leads to the Rifugio. The Rifugio was an abandoned shelter which ACARBIO, our organization is working on to renovate as part of the RESCUE: Renewed spaces project, with the aim of creating a common space for hikers who visit the area.  A space which offers hikes, all necessities to have a break and rest during the day or even spend the night.
Along the path which leads to Rifugio, ACARBIO placed wooden panels to communicate information to hikers. In a form of non – formal learning our organization intends to educate people about the biosphere, the flora and fauna of the region. For example, we placed signs next to a couple of water springs to tell people not to wash their equipment in those waters because they will kill the Salamanders. Salamanders are an endangered species of amphibians, very small lizard – looking animals which live in those waters. Another example is signs which encourage the hikers not to litter the forest, and to take all their waste back with them. The panels educate the hikers about the importance of protecting the nature and surroundings and alter their environmental awareness.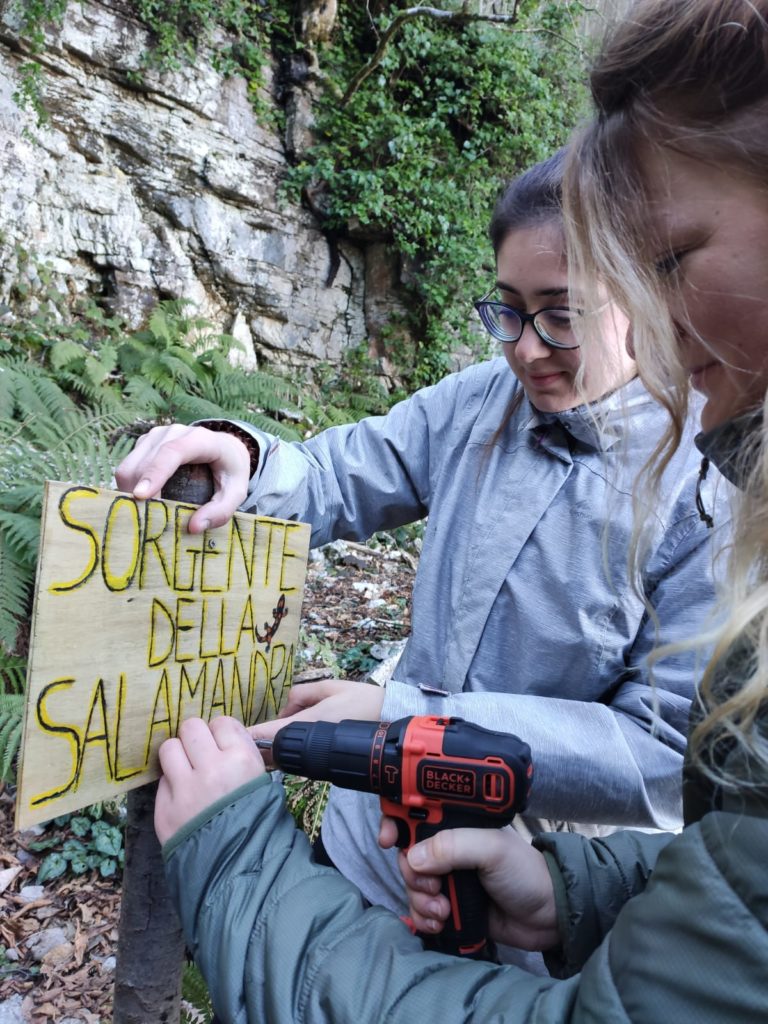 What is pyrography exactly?
All these signs were made using pyrography technic. Pyrography comes from the Greek words πῦρ (pyr) which means fire and γραφή (grafí) meaning writing. It is a free-handed art which we use to decorate wood using a heated object such as a poker to mark or carve our design.
It is a very simple and affordable technic that all of us can learn. The equipment for pyrography can be found easily and there are a lot of online tutorials to teach ourselves how to do.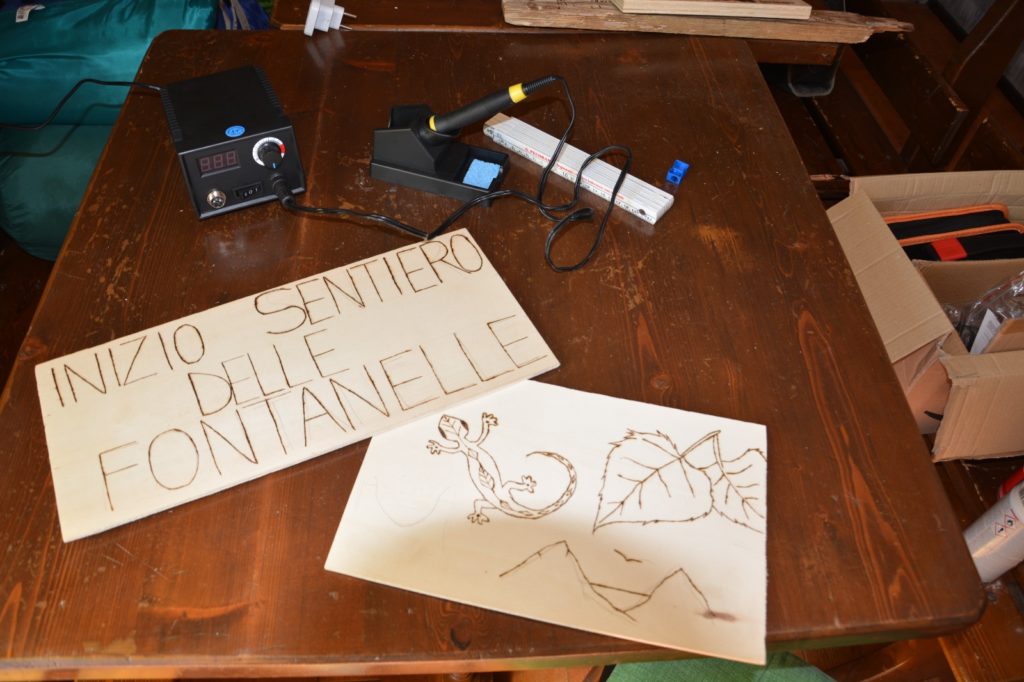 Our workshops on pyrography:
ACARBIO is also organising workshops teaching this technic to local and international volunteers as part of the initiatives to involve the community within the RESCUE project.
Our volunteer demonstrates how pyrography works from design drafts to final piece. We make workshops to volunteers on how to brainstorm their message and how to choose the final text which will be easy to read and comprehensible. How to cut the wood to create different shapes using a variety of cutting tools and of course how to draw with the pyrographer and its different pens to draw various design and fonts.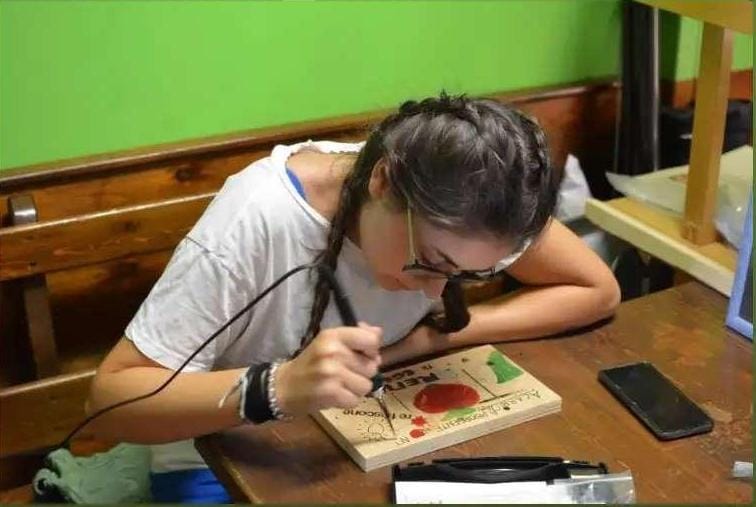 With these workshops we show them first-hand by using simple technics can be both creative and can achieve their goal in disseminating useful information about their projects in a sustainable way. We also included volunteers in the making process of the wooden signs for the path to also raise awareness about the biodiversity and protection of the area.  
With every project we do we try to encourage people to think out of the box and use their abilities to find eco-friendly and sustainable solutions.