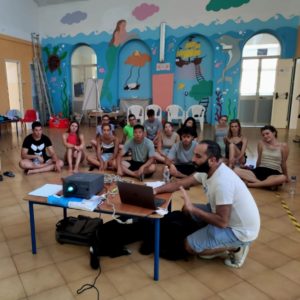 Wednesday, 10th of August of 2022 was the day most of us, the August group from Make it green, tried doing graffiti for the first time. Just as other types of art, graffiti is a way of self expression and a way to deliver a message with an image. It is up to the artist to choose what kind of message they want to share and what type of reaction they want to get from the public. We were encouraged to always remember that whenever we were doing something that will be seen by others, specially while talking about graffiti, an art style that is seen by many as vandalism and destructive.
The artist Marco De Rosa talked to us about his experience and presented his work as an artist in a small community as well as a therapeutical artist. We were left with a good comparison between graffiti and life itself.
"Graffiti is like any relationship, the closer you get to your piece, the clearer everything gets, specially the lines."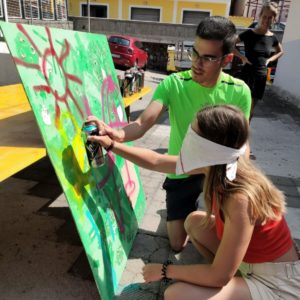 After this we proceed to pick up a can of paint to put our recent knowledge into practice. Feelings of excitement and unfamiliarity started to build up and we could all let it out with the paint as we wrote our names. Being more used to that extention of our hands, another exercise started. This time we were grouped in pairs in which one of us was blindfolded and the other would pick our hand that had the can of paint and started drawing some doodles. At first it was a bit nerve-wracking since we no longer had the control over the situation or even over our own hand. The objective of this exercise was to build trust amongst ourselves and being comfortable with not having full control (and understand that it is ok to make mistakes while painting). The challenge was successfully completed by the group.
This workshop was an introduction to this style of painting to prepare and awake our inner artists for a bigger project coming ahead, coming up with ideas to paint the walls of a school theater to make it more appealing. We came up with some ideas to share with Marco whose help is crucial to come up with a design for said theater.
With this project we hope to give a piece of us to the community and maybe brighten up the life of others around us as well as inspire them with good things.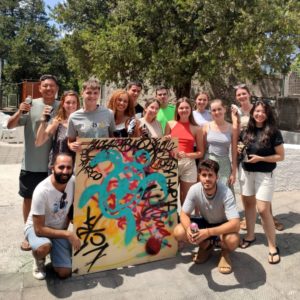 Until the next time, Make it green.
Author: Vitória Vieira