During the summer of 2022, from 4th of July to 31st of August, Tramonti welcomed 2 groups of European Solidarity Corps' volunteers, one for each month, for the "Make it green" project, thought and prepared by Acarbio. The main objective of this project is to raise awareness on subjects like sustainability and the environmental issues we face in this region.
For four weeks, in August, we had a lot of different types of activities like cleaning some hiking paths, an event in Maiori, painting a school theater, workshops and cultural nights. In the rest of this article, we will describe how some of these activities took place.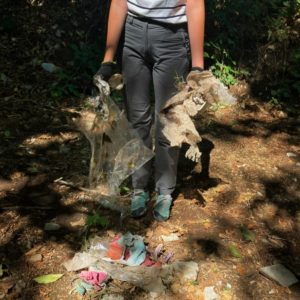 As far as hiking paths cleaning is concerned, we carried out three during the month of August. The aim of these was to reduce the amount of rubbish on Tramonti's hiking paths. Each time we collected more than 10 bags, we handed over them to the municipality which worked together with Acarbio in this project. Even though we are proud to have removed this large amount of waste, it is useless if no one sees it. We have therefore carried out several awareness-raising campaigns via social networks to increase the consciousness of the inhabitants and tourists of the Amalfi Coast. To this end, we also held an event along the beach of Maiori. The aim was to attract passers-by to our stand so that they could take part in a quiz about sustainability. We are proud because we got some good feedback and had a lot of participants, we hope they will remember this awareness raising.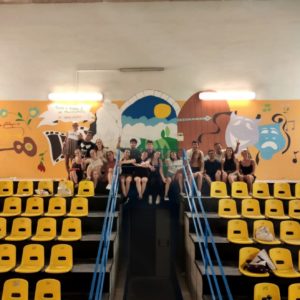 Another activity we did was to paint the Geovanni Pascoli school's theater , this is not only used by the teachers and the students but also by the local theater club. To accomplish this we started by having some ideas on what we wanted to paint on the walls, jointly with the local artist Marco De Rosa, we had a design.
For the painting itself, first we started by removing the old design with some sandpaper and smoothing the walls as well, then fixed some holes and we were ready to paint. We painted the base color, orange, around the whole theater and repeated the process three more times until we were happy with the result. Finally, Marco drew the sketch on the walls with some chalk and we were able to finish the painting.
This wasn't much about the environment itself but more about social sustainability. Our goal was to prepare a space where people want to visit and participate in activities, to leave a good thing for the community that will stay after we leave ourselves.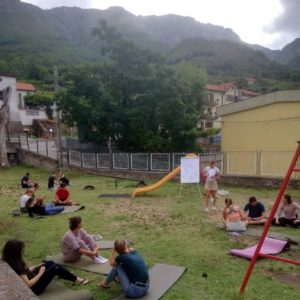 Every week, we also attended several workshops presented by our two coordinators Alicia and Boróka. These were all very interesting and we learned a lot about sustainability. For example, we followed a workshop about the lifecycle of products to understand how each phase of a product's life is harmful to the environment. Then we also had to reflect in pairs on our current environmental behavior. The aim was to highlight the bad behaviors we practice in our daily lives and to find new ones to implement in the future. It was very interesting because with the daily routine, we sometimes don't realize that we are having a huge impact on the environment and that we could easily avoid it. We also trained twice in the art of debating and speaking about environmental issues. This gave us new information about the topic and helped us to improve our skills in giving a speech to an audience, which is a tough exercise. I'm sure we will all remember some of the tips to use in our next speech.
Since this group is formed by 16 people from 11 different countries, it's a great opportunity to share a part of our cultures with each other.
To make this easier we had a specific time to dedicate to cultural sharing and these were our cultural nights, which happened every Wednesday night. The countries that were presented were Kazakhstan, Belgium, Germany, Hungary, Romania, Moldova, Ukraine, Portugal, Spain, Turkey and Sweden.
We learnt some cultural music and dances, some games, we learnt about some holidays and, of course, we tried some delicious food.
Being exposed to new cultures is not only fun but it also helps to expand our horizons and be comfortable with novelty.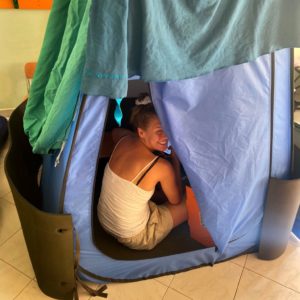 During the last week, we recorded a podcast about our experiences from "Make it green". In the process of making the podcast "Rete Verde" we divided in small groups that had to take care of the directing, music, editing, etc. Even though no one had knowledge of doing a podcast, the process went smoothly, everyone got involved and took it very seriously. We asked each other a question related to the "Make It Green" project or their experience. The whole process of making the podcast was very interesting as well the responses of each participant. The podcast turned out very good and it's a result of the work of passion and effort from each participant.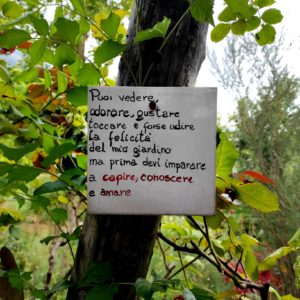 During our hiking on the path of thirteen churches, the "Make It Green" had the opportunity to visit the "Secret Garden of the Soul" in Campinola Borgo di Tramonti, at an altitude of 450 meters. The tour was guided by Antonio who lovingly dedicates himself to cultivation and pampering this corner of paradise which he has been taking care of since 1999. During this visit the team learned about the Tramonti's history and the passion of the people to take care of nature and its beauty.
Along this journey, we all had different personal experiences while participating in these activities. Here are a few words from some of the volunteers who participated in the Make It Green project during the month of August, sharing their view on this project.
"This project is one to remember! All the friendships and knowledge I earned here will have an impact on my future life! From now on, I will try to be more careful about how my attitude affects the environment!"
Boróka
"This month has been a great adventure, I had the opportunity to get out of my comfort zone, I met new people, stories and cultures, which brought me a new vision of the world and various learnings. There were many good times that will never be forgotten."
Geovana
"I'm grateful to participate in this program, because I have learned a lot. Our team was a really really great team, I would like to work with them in the future. Every day was the best day, I recommend every person who wants to make friends and experiences."
Adrienn
"Being a part of this project made me realize the beauty and happiness of life and doing something that has an impact on our future. Getting to know new people and different cultures was one of the best experiences. Every night, before going to sleep, I've had the same thought: today was the best day! Having this feeling for one month is the biggest luck and I will be forever grateful that I've got the chance to be a member of this amazing team."
Nóra
"In this past month I felt really excited for being in this project and also really excited for meeting new people. I think we did great things together and I wouldn't change a thing about that."
Maria
"I'm really thankful that "Make It Green" and all of the participants were a part of my crazy journey. Nothing was perfect but that's what makes the experience even better, to learn, debate, collaborate, everything was a constructive process which I think it made me a different person."
Lucian
"I have enjoyed a lot this project with some amazing people and really entertaining and, at the same time, educative activities guide by the best coordinates I could imagine. An experience I highly recommend for everybody."
Christian
"I think this project came at the right time in my life and did me a lot of good. I learned a lot about myself and my relationships with others. I feel proud because I know that I have contributed to something good for the land and for the surrounding communities of Tramonti. Now I just have to put everything I have learned into practice in Belgium."
Gabriel
"This was an amazing summer, I'm really glad that I decided to apply to this project. We had a little bit of everything between working, learning, teaching, and having lots of fun. I came with no expectations but if I knew what was about to come, I wouldn't think twice before applying; thank you Acarbio, thank you Alicia and Bibi."
Vitória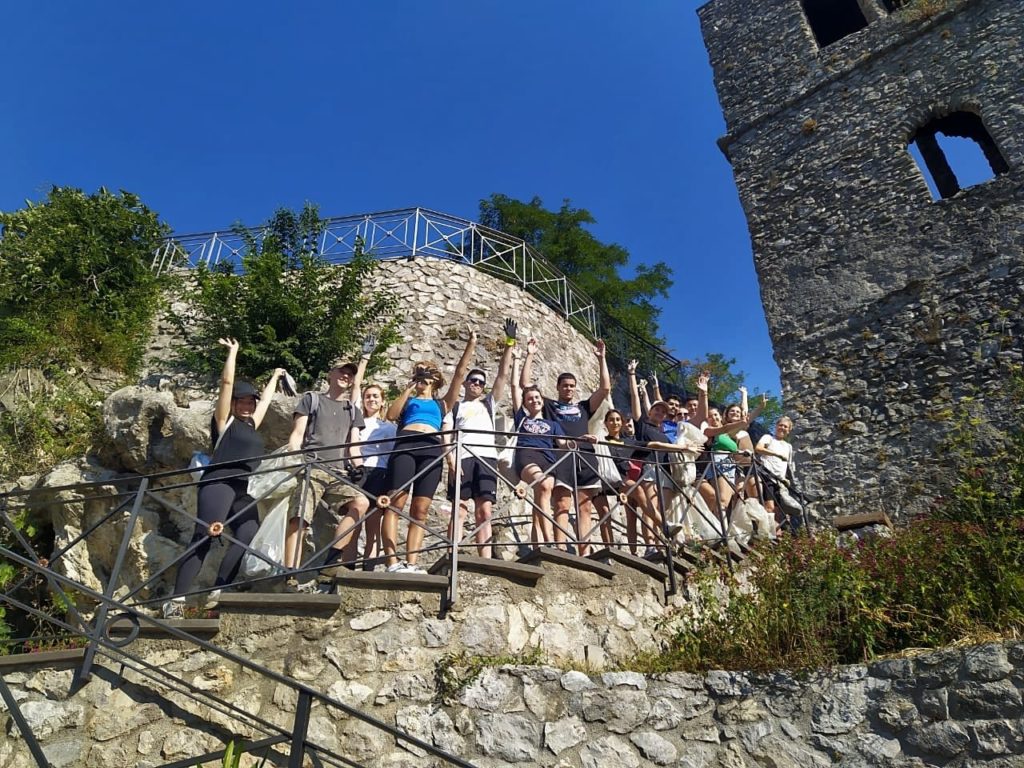 Goodbye and remember, keep making it green.
Authors: Christian Iglesias Franco; Gabriel Jadin; Lucian Cojocaru; Vitória Vieira